When the old way of doing things simply stops working, it's time to switch things up… especially when you're a national athletic association concerned about stagnating ticket sales. The good news is: we know email marketing. And the great news is:
We love a good challenge.
When the National Collegiate Athletic Association (NCAA) called us up to assist in developing a pre-sale ticket email campaign for the preliminary and regional rounds of the 2018 March Madness® tournament, we were stoked. Knowing they were serious about increasing ticket sales, particularly for under-sold venues, we dove right into developing a top-notch campaign that would deliver.
3 Steps to a Slam-Dunk Email Campaign
1. Segmentation
Before launching an email campaign, you need a solid database of emails. And if you want that campaign to be successful, you need an email database filled with quality leads—people who have purchased in the past or are highly likely to in the future.
For the NCAA, developing this list wasn't a problem. They have hundreds of thousands of emails from fans that have purchased tickets in the past, signed up for contests or newsletters or provided their email via other sources like social media. In order to customize our message for each audience, we had to segment them into clearly defined groups. Here's how we broke them down:
Starters (people who had purchased NCAA March Madness tickets in previous years). This group was the largest and also represented the highest chance of conversion, since they had already attended games in years past.
Bench-in (people who applied for 2018 Final Four® tickets and received them): There is an application process to receive tickets to the March Madness championship game, and these were the lucky fans selected to receive them. So for this group, the appeal of buying preliminary round tickets would be to see more of the madness in-person.
Bench-out (people who applied for 2018 Final Four tickets and did NOT receive them): These fans were not selected to receive tickets to the 2018 championship game. But they might still be interested in seeing a preliminary round game!
Redshirts Present (people whose emails were received through contests, social media or other lead gen sources in the past year). This group has a slimmer chance of converting since they have expressed interest in the NCAA or March Madness but have not converted.
Redshirts Past (people whose emails were received through contests, social media or other lead gen sources over a year ago). This group has the smallest chance of converting, as they expressed interest in the organization or games a longer time ago.
2. Creative Development & Content
Once we segmented the emails, we were ready to begin creative development. Each of the audiences above had a different reason to be interested in preliminary and regional round tickets. For instance, members of the Bench-in group would view buying prelim tickets as a way to see more of the action live, while members of the Redshirts Present would require more of an incentive to pique their interest.
Looking to boost ticket sales, we wanted to produce emails that would speak to each of our audience segments, stand out on multiple device formats and still carry the tone and style of NCAA emails. We achieved this outcome by leveraging GIFs, personalization and other key email statistics.
Email stats that go a long way
Armed with data, we designed an effective email campaign that incorporated GIFs, buttons for CTAs, personalization in both the subject and body and time-sensitive language in the subject and header. Copy was kept to a minimum, as only about 20% of text actually gets read these days, so visual elements are key. Here's where our design netted out: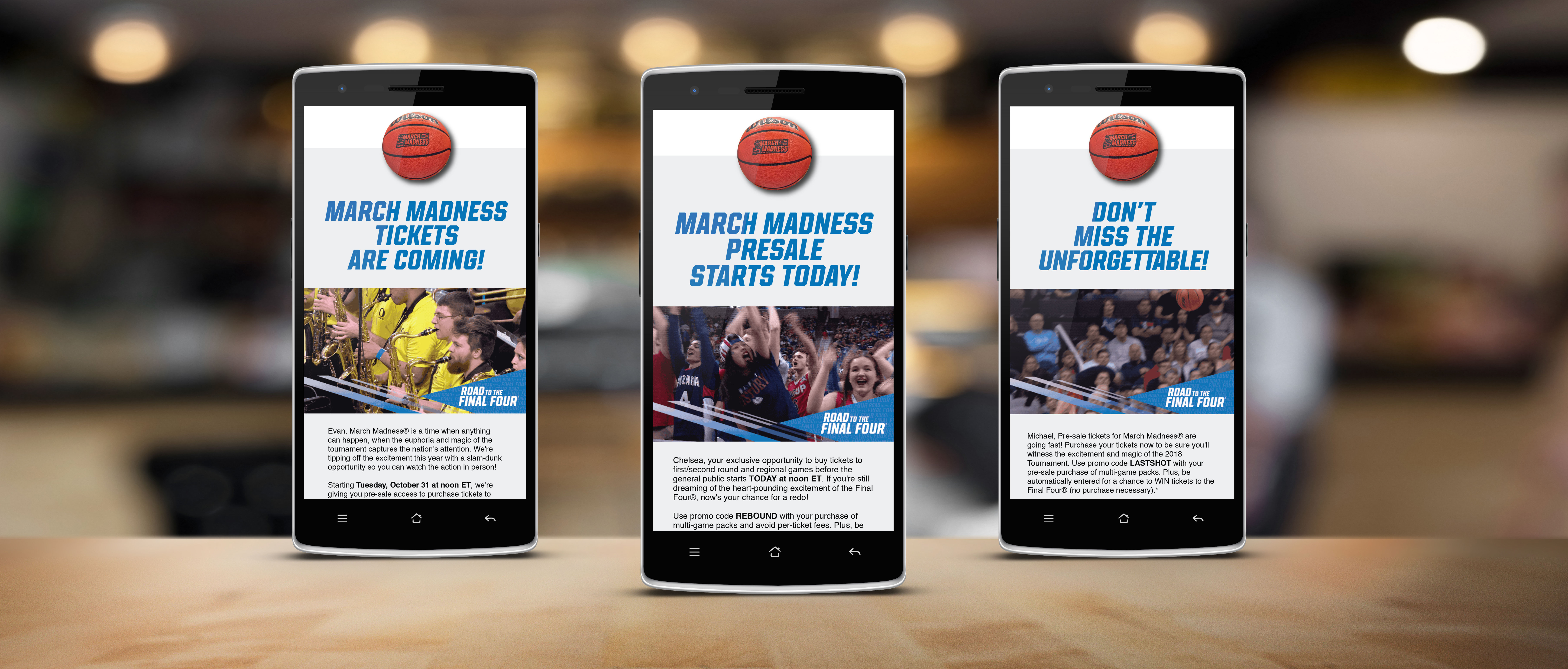 3. Deployment
To truly target each of our defined audience segments, we customized headlines, promo codes, offers and GIFs for each segment.
All five audiences received their version of a "pre-sale coming soon" email a few days in advance. This was followed up the next day with unique emails that contained the first offer and promo code. Two reminder emails were sent to each audience on the subsequent days to convey the urgency of the offer, as the pre-sale period only lasted a few days.
Social posts with GIFs and similar tone of voice were developed to integrate the campaign across multiple channels. Using social posts to compliment the email campaign created consistency across multiple touch points and further increased sales.
Finally, a landing page with ticket, offer and accommodation information was developed and linked from the email. The landing page mirrored the style of the emails and social posts to further integrate all communications regarding the campaign.
Results
We can recommend GIFs and calling people by their first names all day, but the numbers are what truly convey the effectiveness of a campaign. Based on a few sales stats provided by the client, we'd say we got at least a triple-double.
18% increase in sales year over year
Starters carried the majority of sales, accounting for 49% of total pre-sale ticket sales. Redshirts Present followed with 23%, Redshirts Past accounted for 13% and the Bench-in and Bench-out segments accounted for just over 7% each.
83% of total sales were completed on the first day of the pre-sale. The second day (reminder email) and last day (end email) accounted for 14% and 4%, respectively.
Read the Case Study
We loved working with our Indianapolis neighbor to help ignite ticket sales for the preliminary and regional rounds of their 2018 tournament. Now all that's left to do is see how our brackets fare.
Portfolio Recap: Developing a Slam-Dunk Email Campaign
was last modified:
August 3rd, 2018
by