Visit our office on any day of the week and you will surely see (or hear) our favorite office pup! We think it is time that everyone gets to know a bit more about him. Yadi hails from the Humane Society of Indianapolis with a double-major in "Playing Fetch" and "Receiving Belly Rubs". His official position of Burkhart is Chief Morale Officer and we've gotta say, he is really good at his job.
Have a few minutes to spare? Keep reading to get a look into the mind of the Office Dog, Yadi!
If you didn't have to sleep, what would you do with the extra time?
Drop my bone on my owners face when he's trying to sleep.
You're a new addition to the crayon box. What color would you be and why?
I'm color blind so I guess gray?
What did you want to be when you grew up?
Loved.
What drew you to/kept you in advertising? (How did you choose it?)
My owner Luke worked at Burkhart Marketing so of course, I tagged along.
Who would you most like to swap places with for a day?
Erin, so I could sit at the front desk and greet everyone who walked in.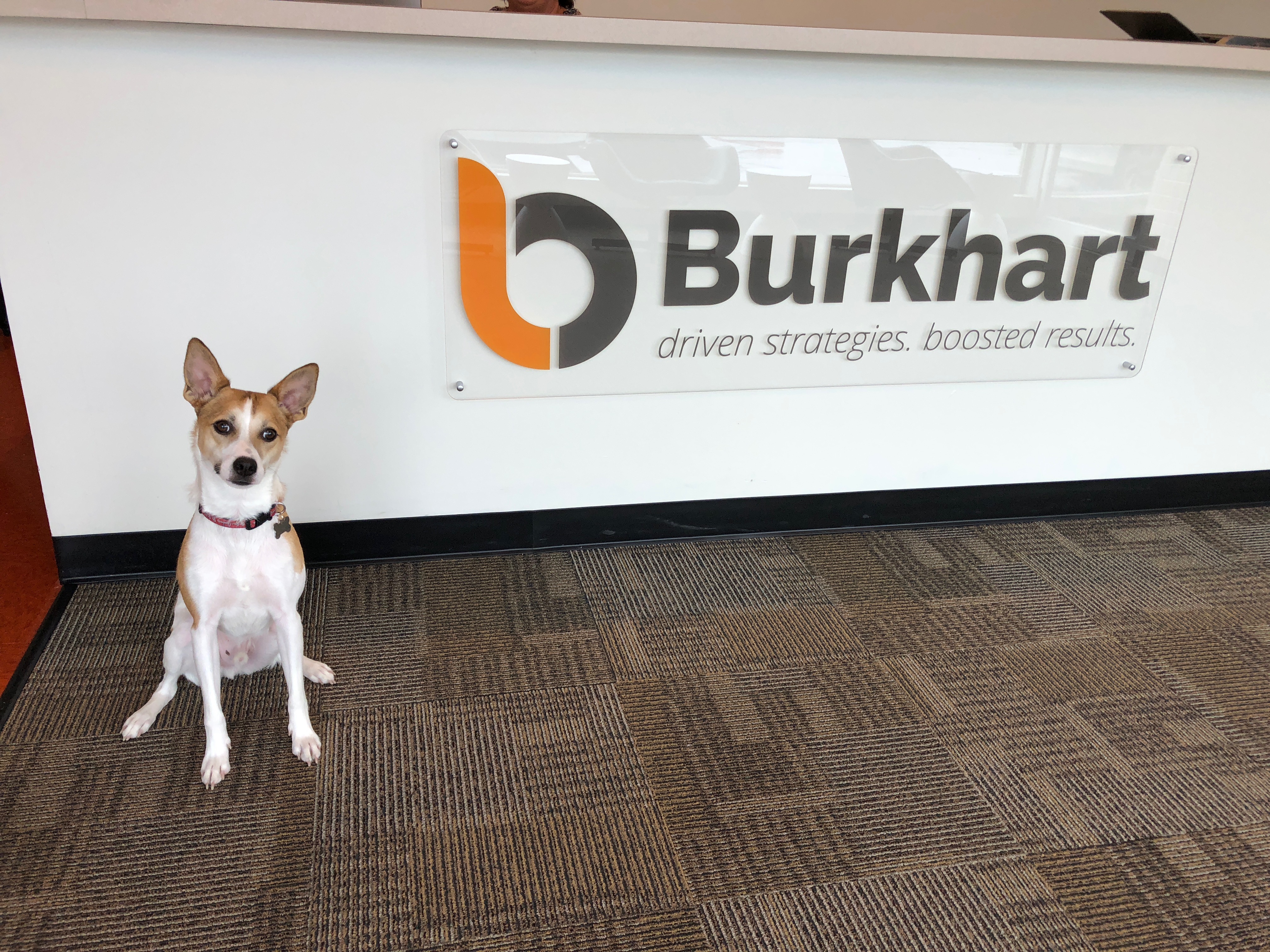 Who or what inspires you?
Three words "Let's go outside".
What is your most-used emoji?
🐶
What do you feel prepared you most for life after college?
Being potty trained.
What do you think about when you're alone in your car?
Is that a dog? Is that a squirrel? I have to pee…
What is a professional goal that you hope to accomplish in the next five years?
Learn not to bark every time someone walks by.
What's your favorite throwback jam?
"Who Let The Dogs Out" by Baha Men.

Who is your favorite superhero? Least favorite?
Air Bud!
What are you reading currently? What is your favorite book?
The Puppy Who Lost His Way
Where is your happy place?
My bed
Employee Spotlight: Yadi
was last modified:
February 7th, 2019
by