For some, being a lifetime member of their chosen career/field means they have been in the industry since graduation. However, for our newest AE it quite literally means he has been a LIFETIME MEMBER. Luke Burkhart has been involved in the agency since he was a boy, completing various tasks from general yard work to brainstorming with clients. Now, as an Account Executive, he can look back and see that it all lead to this.
We asked Luke some getting to know you questions to understand a little more about our newest Teammate. Read on to learn who inspires him, his favorite throwback jam and more!
What did you want to be when you grew up?
When I grew up, I originally wanted to be a police officer. Being able to drive a car with sirens on it, chase bad guys and help people sounds like so much fun.
What drew you to/kept you in advertising? (How did you choose it?)
I always tell our clients when they ask about my background that I essentially grew up in a marketing agency. Ever since I was little, I can remember running around doing random tasks to help out wherever I could. Of course, they were never glorious tasks i.e. pulling weeds, taking out the trash, painting curbs or fences, etc. But I did get some very good opportunities to sit in on meetings and give my thoughts during brainstorms. Seeing projects from start to finish as a younger professional is what really kept me in the industry. I saw that clients had a particular pain point and the agency used different strategies and their overall creativity to solve them.
Who or what inspires you?
My family. They have sacrificed so much to provide me with opportunities in order to be where I am today in my career that I will never be able to repay them.
What do you feel prepared you most for life after college?
Experience. Being able to work at a marketing agency every summer is an opportunity not many professionals are able to have.
What's your favorite 90's television show?
That would have to be Friends. I still watch 1-2 episodes a day either at lunch or when I'm winding down before bed. "WE WERE ON A BREAK!!"
What do you think about when you're alone in your car?
Since I only live about two minutes from work, there's usually not enough time to go into deep thought. However, when I do have some drive time ahead of me, I usually use that time to decompress. Listening to podcasts or music helps remove the typical day-to-day stresses of life.
What's your favorite throwback jam?
That definitely has to be "Old Thing Back" By Matoma & The Notorious B.I.G. feat. Ja Rule & Ralph Tresvant. Anytime that songs comes on, I instantly start dancing… terribly.
You're a crayon, what color would you be and why?
Black because it is useful when drawing anything. The black crayon provides structure, by outlining shapes and separating colors from one each other. I'm good at seeing the big picture and I have the problem-solving abilities to recognize where the individual pieces need to go in order to achieve that.
Who would you most like to swap places with for a day?
Yadier Molina, catcher for the Saint Louis Cardinals. He's my absolute favorite baseball player, so much so that I named my dog after him.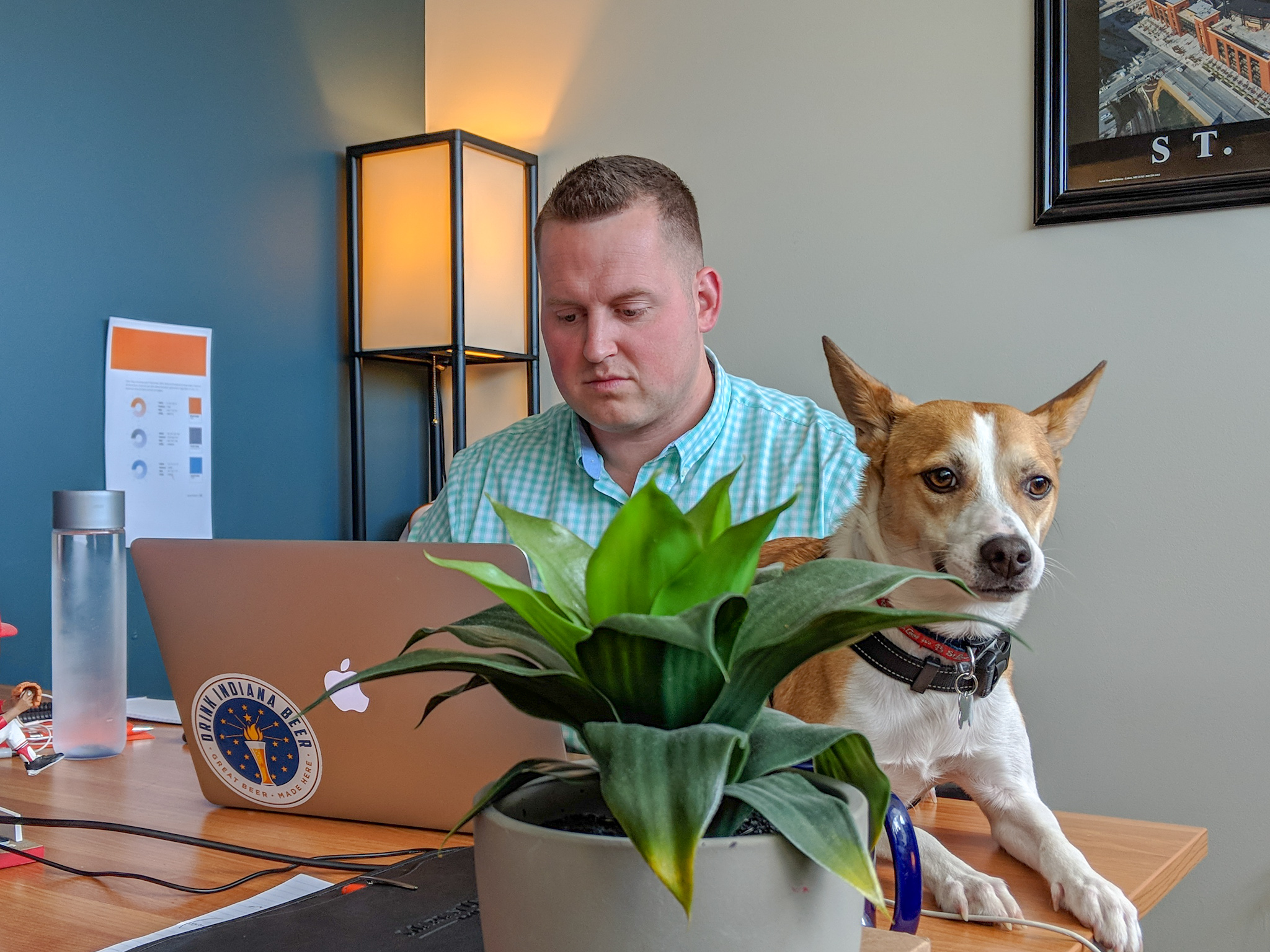 What is your most-used emoji?
That would have to be the "fire" emoji. Anyone can "favorite" or "like" something. Saying something is "fire" has so much more meaning.
Employee Spotlight: Luke Burkhart
was last modified:
August 30th, 2018
by