Let's face it — outdoor advertising is not going anywhere. We're as on-board as anyone when it comes to digital marketing and the new, effective methods of reaching your target audience. But outdoor advertising – be it print or digital – is here to stay. And why not? A 48-foot billboard message glaring through your windshield has a way of getting noticed.
But if you're going to implement large-scale outdoor advertising, there are four things you must understand to do it right:
1. BREVITY
First things first, realize that the average billboard is viewed for 3.5 seconds. You have one fleeting chance to get your message across to your viewer. This is not an ad in your local newspaper, so leave off that secondary call to action, the list of bullet points, special bonus offers, etc. If the message you want to convey is not something that can be stated in just a few seconds, then a billboard is not what you should be running.
Even if you're a speed-reader, have 20/20 vision and are the safest highway driver in the world… when this billboard comes blurring past you at 70 mph on the interstate, this paragraph of information is going to be quickly dismissed. Not to mention, when half your ad is in all caps, you lose the emphasis you were hoping to achieve. I feel like the designer chose words at random to capitalize… and that they're YELLING AT ME.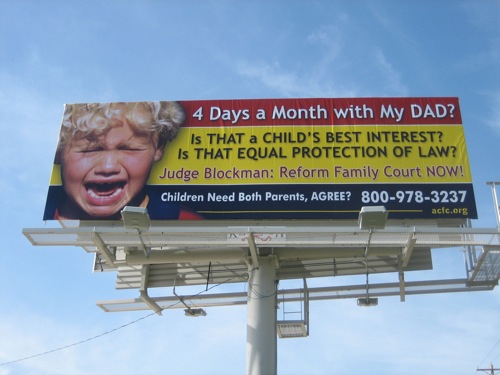 2. RULE OF THREE
Generally speaking, the most successful outdoor designs have 3 main elements that let the eye move quickly and easily through a hierarchy of information. Don't jumble too many photos, distracting backgrounds, verbose type or a bunch of logos together on one ad. The eye simply can't sort through it all, and will move on to something else. Typically (and this rule is bendable), a line of type should be no longer than five words or so. The more you have on your billboard, the more it will be overlooked. Keep it down to three main elements at most.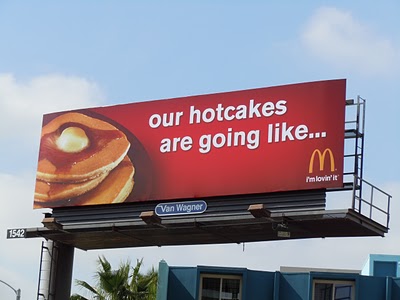 An amusing but succinct headline is the first thing noticed, followed by a large, appealing product image, then a logo. These three elements and adequate breathing room steer what is a very successful message from McDonald's. Now, every morning you drive past this supersized ad, you can appreciate successful implementation of the rule of three. Good work, Mickey D's.
3. BE CLEAR
Convey one clear, concise message to your audience, in one cohesive design. Remember, you have a brief window of opportunity to get your point across, so your space shouldn't be muddled with too much type, photos, artwork, etc. Keep your background clean and simple. Use bold colors and contrast, but don't create annoying vibrations (like florescent colors or large white spaces if you're using a digital board). Make it easy on the eyes. You have a lot of space to work with, so keep the text and images large. People may be seeing your ad from several hundred feet away, so maximize your time window with a message that is clear from long distances.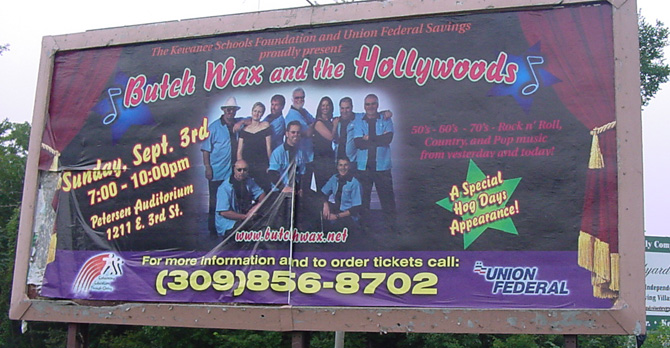 Now this billboard is a prime example of what not to do. Aside from the "less than aesthetically pleasing" color and font choice, there are approximately a dozen different messages going on here. The only thing that's clear, is that Butch Wax and the Hollywoods would have been better off with a print ad. We can only hope their music is better than their billboard design.
4. KNOW YOUR LOCATION
Placement, people. It plays a huge role in delivering your message. Know where the high-traffic areas are, what kind of audience/demographic is in the area and be aware of any x-factors involved. Many subtle nuances can come into play when utilizing outdoor advertising. If you come across odd sizes, specs or locations, then you may need to take a closer look at that billboard to ensure you know how to handle the details.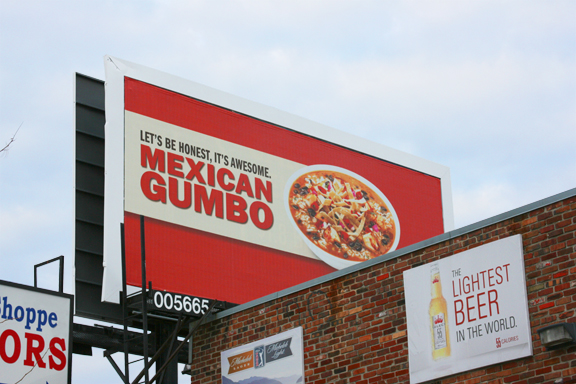 X-factor: Your roadside billboard is directly on top of a building.
Solution: Don't put pertinent information (such as the Qdoba logo) along the bottom… especially not in the corner, where it is completely hidden from traffic. If you see this billboard, you'll have no idea where to go in order to satisfy your newly found craving for Mexican gumbo.
Now you know the four keys to outdoor advertising. So the next time you find yourself designing a billboard, keep these rules in mind to maximize the effectiveness of your outdoor campaign!
4 Keys To Outdoor Advertising
was last modified:
December 27th, 2017
by