Google's stance on digital display ads changes with the direction of the wind, and 2017 is no different.
This year, marketers are learning to alter their advertisements to several major display ad trends that are defining the face of digital marketing.
3 Display Ad Trends Affecting Advertisers Today
While the standards for display ads change on a continual basis, the following are some of the largest trends influencing the industry right now:
1. Expanded text space on search ads
On Tuesday, May 24, 2016, Google announced in a blog post that it would begin offering more text space to advertisers using text ads. This change came hot on the heels of Google's announcement that it would do away with right-hand PPC ads in the SERPs.
Once those pay-per-click ads were gone from the right sidebar of the search results page, Google had more room to offer increased space to text display ads. The change, which was one of the biggest to hit the world of pay-per-click advertising in 2016, increased the headline character limit to two 30-character headline spaces and one 80-character line for additional information or descriptions.
This, in turn, made it easier for marketers to provide value to searchers, and to develop more targeted, relevant ads for publication.
2. The death of the interstitial
Earlier this year, Google announced that it would start leveraging hefty penalties for companies that displayed intrusive pop-up advertisements to customers on mobile devices. Google calls these ads interstitials and they include the following types of ads:
Popups that obscure the page's main content, either immediately after the searcher lands on the page or during their engagement with a page
Independent interstitial ads that users must click-through to navigate to main page content
Ads that appear above the page fold (like a stand-alone interstitial), and feature main page content below the fold
These penalties took effect on January 10, 2017. While the aforementioned ad varieties will see Google penalties, native ads are still a good option for many marketers, especially since Google implemented programmatic native ads.
3. Native responsive digital display ads
Google has been hard at work for years to strengthen the power of its native display ads and enhance the mobile user experience.
One of the ways it has recently done this is by introducing responsive display ads that are designed to adjust their size, shape and orientation based on the content in which they're embedded.
While the publishers of these ads still supply descriptions, headlines and images, Google is in charge of the dynamic creation of the ads themselves.
For an example of what these ads look like, consider the following Marketing Land screenshot: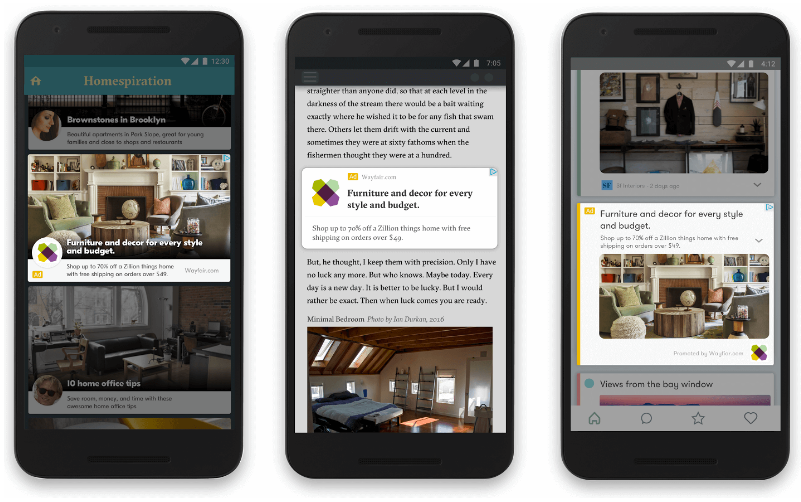 Display ads will continue to shift in the coming years, but advertisers who adapt to these current trends will be in a better position to adapt to future changes, as well.
3 Trends in Digital Display Ads Served Up by Google
was last modified:
January 2nd, 2018
by